ACC Club News
Our newswire covers club news and local tournaments as well as any particularly unique or interesting chess articles, videos and other items from around the web. We leave coverage of most other national and international events to TWIC, Chessbase and others, though we do cover really big events.
ACC Online:
For regular club news and announcements, send an e-mail to chrisney2@gmail.com to receive our semi-monthly newsletter.
NOTE: Have you read a poorly written sentence? Find a bad link? Are we missing important material? Please raise these issues with us at: chrisney2@gmail.com.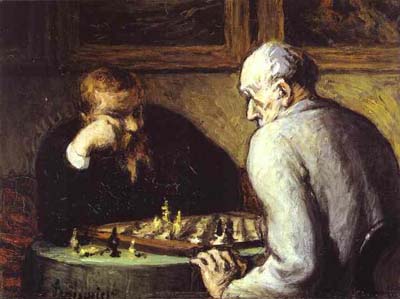 April 10, 2017
Stalemate in the FIDE power struggle?; By Frederic Friedel; Chessbase
After the turmoil of the past weeks – the official FIDE web site announced the resignation of its President, ollowed within hours by emphatic denials from Kirsan Ilyumzhinov – an Extraordinary Presidential Board meeting was held in Athens today. It was attended by Ilyumzhinov, Deputy President Georgios Makropoulos, and fourteen other voting members, representing a quorum. Ilyumzhinov apologized for making certain statements, and seems to remain in power. FIDE press release.
April 7, 2017
Alexander Grischuk: Chess is "just a game"; By Colin McGourty; Chess24
Alexander Grischuk hasn't been playing much of late – and is skipping the main events in the coming month – but he's been making it count. He won $54,000 in the Doha World Rapid and Blitz Championships and took first place in the first FIDE Grand Prix in Sharjah. In a recent interview he talked about how chess isn't "sacred" for him, how he's turned his back on poker and why he doesn't take an annual salary from the Russian Chess Federation.
April 7, 2017
Bobby Fischer on the Dick Cavett Show; By Johannes Fischer; Chessbase
Bobby Fischer's reclusiveness was legendary. But in 1971, before his Candidates Match against Tigran Petrosian, he was a guest of talkshow legend Dick Cavett. In 2008 a video of this show appeared on YouTube and by now it has more than a million views. Less known is the fact that Fischer appeared a second time on the Dick Cavett Show, this time before his match against Spassky. A video of this show was just published on YouTube.
April 5, 2017
Ilyumzhinov announces $30 million 'Kirsan Fund' for chess; By Frederic Friedel; Chessbase
You know about the power struggle for control of the International Chess Federation FIDE, on which we have reported extensively. On the eve of his 55th birthday the embattled President made an clear attacking move: Kirsan Ilyumzhinov announced that he has registered a charitable foundation, the "Kirsan Fund", in the United States, and plans to invest 30 million dollars in its activities: Chess in Schools, Chess in villages, Chess in families and Chess for people with disabilities. "We set an ambitious task to bring the number of chess players to one billion."
April 1, 2017
Pal Benko: April Swindles – unusual chess problems; By GM Pal Benko; Chessbase
Eighty-eight – that is what the first two problems in the April 1st collection symbolize. That is the age of the composer, the indefatigable Pal Benko, who sent us five very unusual positions for this auspicious day. Do not expect to fire up the positions on your computer and press Ctrl-Alt-Del for engine assistance. Today you will have to think – you know, mobilize all that grey matter. And a fair bit of humour. We wish you fun and unusual enjoyment.
March 29, 2017
The power struggle continues: letter from Makropoulos; By Frederic Friedel; Chessbase
Georgios Makropoulos, seven time Greek Champion, is the Deputy President of FIDE, and has been in that role for twenty years now. In December 2015, after the US Treasury had placed FIDE president Kirsan Ilyumzhinov on the sanction list, forbidding US citizens from conducting business with him, FIDE decided transfer the powers of legal, financial and business operations to Makropoulos. In the latest FIDE power struggle "Makro", as he is known to friends, has described his view of the events.
March 28, 2017
Power struggle at the top of the chess world; By Frederic Friedel; Chessbase
Also see: The Guardian
We reported yesterday: the official International Chess Federation web site announced the resignation of its President Kirsan Ilyumzhinov, followed within hours by emphatic denials from Ilyumzhinov. Today there are new letters on the FIDE page, describing the circumstances of his alleged resignation: "During the Presidental Board Meeting in Athens, you several time threatened to resign, and at the end of the meeting three times you repeated 'I resign' before leaving the room." In a press conference of the Russian Chess Federation Ilyumzhinov explained his position.
March 27, 2017
Ilyumzhinov Resigns, Or Does He?; By Colin McGourty; Chess24
The FIDE website today claimed that its President, Kirsan Ilyumzhinov, announced his resignation yesterday at the end of the quarterly Presidential Board meeting in Athens. No sooner had that notice appeared, though, when both Ilyumzhinov and Russian Chess Federation President and FIDE VP Andrey Filatov took to Russian media to dismiss that version of events, describing what took place as "a set-up". Kirsan says he signed nothing and will continue in his role. UPDATE: FIDE respond to say Ilyumzhinov ended a meeting by 3 times saying "I resign", while Ilyumzhinov insists he'll remain in power at least until the 2018 FIDE General Assembly in Batumi.
March 27, 2017
Did Ilyumzhinov resign? Apparently not!; By Frederic Friedel; Chessbase
It is on the official FIDE web site: at the end of the Board meeting on the 26th March 2017, "Kirsan Ilyumzhinov announced his resignation from the position of FIDE President. The Presidential Board has been formally advised of this announcement..." But within hours there was a denial from Ilyumzhinov: "They wanted to oust me, but they could not pull it off," he said in an interview with TASS. A failed putsch by the FIDE officials in Athens?
March 27, 2017
Capablanca and the Nimzo-Indian; By Alexander Yermolinsky; Chessbase
The following article is an example of how a lifelong student of the game amuses himself. GM Yermolinsky noticed that right after losing his title to Alekhine in 1927, Capablanca began to play the Nimzo-Indian, something he had never done before. A remarkable change after the 31 Queen's Gambit Declined games out of 34 from the match. Enjoy this fascinating analysis.
March 22, 2017
Iron Tigran: Clash of the Cavalries!; By Srinath Narayanan; Chessbase
"There have been many instances in history when an inspired cavalry charge disrupts the momentum of a battle," writes International Master Srinath Narayanan who thinks Tigran Petrosian is one of the greatest players of chess, ever. He dissects the play of the former world champion in the first of his planned series of articles on chess history. He tees off with an ode to the Iron Tigran. Enjoy.
March 21, 2017
Daniel King analyzes Bobby Fischer (part 1); By Albert Silver; Chessbase
If there is one player in chess, whose mystique and fascination know no bounds, it is the legendary Bobby Fischer. Ask GM Daniel King, chess author and video maker extraordinaire, who asked the patrons of his channel what they most wanted to see him look at. The result is a series analyzing games by the former World Champion, Bobby Fischer and starts with a positional masterpiece he played when he was 16.
March 21, 2017
Computer chess history – knowledge vs brute force; By Frederic Friedel; Chessbase
There has been considerable discussion surrounding the Penrose puzzle we recently presented, where computers "falsely evaluate" a drawn position as a win. We explained in our article that while they display a massive advantage the opponent, computers will play flawlessly to a draw for the defending side. That reminded us of a similar situation in the very early days of computer chess. In 1978 the most powerful computer in the world thought it was completely lost against a strong IM, but easily held the theoretical draw using nothing but brute force.
March 19, 2017
Maurice Ashley on One on 1; By Albert Silver; Chessbase
'It's hard to name something that Maurice Ashley hasn't done in the world of chess. He's played, coached, taught, created tournaments, done play-by-play for tournaments and traveled the world, preaching the gospel of his beloved game.' Thus opens the article and video profile on Maurice Ashley by Budd Mishkin on One on 1.
March 18, 2017
Which GM Said: "I was starving in the jungle"; By Alexey Root; Chessbase
Though a grandmaster of chess, Sam Shankland is a novice at surviving in the jungle. As such, he was one of ten novice contestants paired with survival experts. Shankland's team was the third team eliminated. Although out of contention for the $500,000 prize for the winning team, Shankland says the experience was valuable and that he gained lifelong friends. Enjoy this report with comments and impressions by Sam Shankland.
March 17, 2017
An Evening at the UN with Judit Polgár.; By Staff; Chess24
As part of the 'Planet 50/50 by 2030: Step It Up for Gender Equality' initiative, chess grandmaster and Planet 50/50 Champion Judit Polgár spoke on the theme of 'fighting stereotypes' at a special event held on the evening of March 15 at the United Nations (UN) in New York. The event was a chance for engaged dialogue, a question and answer session, and a fast-paced simultaneous game with two teams of talented young chess players. The evening, though celebratory, also highlighted the amount of work needed to address gender equality in chess.
March 16, 2017
Petrosian on talent, character and near misses; By Colin McGourty; Chess24
Arshak Petrosian has had a highly successful coaching career, leading the tiny Armenian nation to an astonishing hat-trick of Olympiad victories. He was also a promising player in his own right, but in a recent interview he reflects on why he failed to reach the very top level. He also talks about what's held Levon Aronian back from playing a World Championship match, and why his son-in-law and long-term protégé Peter Leko fell just short of becoming the 15th World Champion when he faced Vladimir Kramnik in 2004.
March 10, 2017
Learning from Kramnik; By Alexey Root; ChessBase
Dr. Chandramallika Basak is one of the leading researchers in the area of working memory and cognitive control, training strategies, cognitive and brain plasticity, aging, and biomarkers of complex skill learning (e.g., video games). She has now begun research on children and chess. Alexey Root attended Dr. Basak's lecture "Cognitive Benefits of Learning to Play Chess and Other Strategy Games" and reports here.
March 9, 2017
Chess and comics at the World Chess Hall of Fame; By Macauley Peterson; Chess24
Did you know that Superman plays chess? Well he does. Not only that, he appeared as a chess piece 70 years ago. You know who also plays chess? Batman. He was spotted, even earlier, playing the joker as Robin looked on in 1944. In fact the entire Justice League of America enjoys planning sessions around a chessboard. Who knew? Apparently the history of chess in comics is so rich you can fill a museum exhibition and that's precisely what the World Chess Hall of Fame in Saint Louis, USA, have now done.
March 9, 2017
Interview with "celebrity oldie" Nigel Short; By Junior Tay; ChessBase
He is the oldest player in the world's top 100, and last December he won the British Knockout Championship, to the surprise of some. In the quaterfinals he was dragged into a tie-break by the lowest-rated player in the event, but he then went on to beat Luke McShane and David Howell to take the title. "I am very happy with my status as celebrity oldie – I suppose now that Viktor has gone, someone had to step up," says Nigel in this interview with Junior Tay.
March 8, 2017
International Women's Day; By David Martínez; Chess24
Today, March 8th, is International Women's Day and at chess24 we want to contribute to awareness of the occasion in the chess world, a world in which the sport continues to be overwhelming represented by men. Chess24 gave the floor to a few players from different parts of the world to express their opinion.
Mar. 7, 2017
Iran ban on chess players revisited; By Arash Akbarinia, ChessBase
Iran, the country that has just finished hosting the 2017 Women's World Championship, has been in the mainstream news of late for different reasons. In a remarkable incident during sidelines of the Championship the Iran Chess Federation banned two siblings for "hurting Iran's national interests" (e.g. not wearing a hijab in the Gibraltar Open). This has caused an international outcry, and now an Iranian player and computer scientist, Arash Akbarinia, weighs in.
Mar. 6, 2017
Chess and Physics in the classroom; By Ioannis Halkias, ChessBase
While comparisons between chess and mathematics and chess and science are not new, with greats such as Feynman elaborating, the article here is more than yet another comparison, it is an actual lesson that will appear in high school physics classes in Crete. Enjoy this excellent article by physicist Ioannis Halkias.
Mar. 4, 2017
Chess podcasts, then and now; By Macauley Peterson, Chess24
When you think "chess", you probably don't think "on the radio". A handful of chess fans and professionals are looking to change that via the medium's modern offshoot: downloadable on-demand audio — commonly known as podcasts (a mashup of Apple's "iPod" and "broadcast"). Let's take a brief look at this relatively dormant domain of chess media, which recently got a new lease on life.
Mar. 3, 2017
AMD releases new Ryzen processor; By Albert Silver, ChessBase
One of the most important days in years for computer consumers was the launch yesterday of AMD's newest microprocessor, the R7 Ryzen. For a decade, AMD had been out of the race in high-end desktop CPUs, but the release of the new architecture has shown it is not only back, but at a far more affordable price, and what is more: the best deal around for chess analysis.
Feb. 28, 2017
What went wrong in Sharjah?; By Colin McGourty, Chess24
The Sharjah FIDE Grand Prix ended fittingly with Alexander Grischuk and Maxime Vachier-Lagrave signing a quick draw on the top board to ensure they shared first place. Shakhriyar Mamedyarov joined them by beating birthday girl Hou Yifan, while Ding Liren also beat Levon Aronian, but it couldn't stop the first stage of the Grand Prix being one of the least memorable top events in recent years. What went wrong?
Feb. 27, 2017
The power of chess!; By FM Mirko Trasciatti, ChessBase
Chess is a powerful game. It has the ability to transform lives. But what happens when the inmates of a high security prison in Spoleto, Italy are taught chess? FM Mirko Trasciatti was entrusted with this task and he tells about the impact that his teachings had on the lives of the prisoners. A heart warming story on how potent the game of chess is.
Feb. 22, 2017
Memories of Salo Flohr; By Vlastimil Hort, ChessBase
Before World War II Salo Flohr was one of the world's best players. In 1939 Flohr was to play a World Championship match against Alexander Alekhine but the outbreak of the war destroyed Flohr's hopes to become World Champion. Vlastimil Hort knew Flohr well and shares memories.
Feb. 21, 2017
Iran bans teenage chessplayers for "harming national interests"; By Staff, ChessBase
Dorsa Derakhshani is a talented teenaged chessplayer residing in Spain, originally from Tehran, Iran. She is only the second female in Iran's chess history to have become an international master. Her younger sibling Borna Derakhshani is a talented lad of fifteen and has a good career ahead of him. Imagine their surprise when they were informed by Dorsa's friends that she and her younger brother had been 'banned' by the Iranian Chess Federation!
Feb. 20, 2017
In order to beat the monsters I had to become one myself!; By Sagar Shah, ChessBase
Part II Article; By Sagar Shah, ChessBase
It was the first super tournament of his life. B. Adhiban started as the last seed at the Tata Steel Masters 2017. Not much was expected from him. But he shocked the chess world with a performance of 2812 and finishing third behind So and Carlsen! We go in touch with Adhiban and spoke to him about his tournament, mind set, expectations, and last but not the least, his crazy opening choices. In the second part of the interview we continue the dissection of the key moments in Adhiban's games along with his views on them.
Feb. 15, 2017
Video: Daniel King on Bobby Fischer; By Daniel King, ChessBase
Bobby Fischer was known for his eccentric behavior and for his principled, clear and aggressive chess. On his Power Play Chess Show on YouTube ChessBase author Daniel King recently analysed one of the many strategically instructive Fischer games. Daniel King on Bobby Fischer...
Feb. 14, 2017
Pal Benko's Valentine Day problems; By GM Pal Benko, ChessBase
Since the days of Geoffrey Chaucer in the 14th century Valentine's Day, February 14, has been associated with romantic love, with the presentation of flowers, confectionery and (often anonymous) greeting cards called "valentines". Our indefatigable friend, problem composer Pal Benko, sent us something different: twin problems in valentine shapes. Take a look, but be warned: they are trickier than you would expect – and definitely more romantic.
Feb. 9, 2017
Paul Keres VI: The Eternal Second; By Staff, Chess24
Paul Keres will always be remembered as one of the greatest players never to become World Champion. He never even got to play a match, though as the latest instalment of Joosep Grents' centennial series on the Estonian legend shows, he couldn't have come much closer. From 1953 until 1959 he finished second in three Candidates Tournaments in a row. Youngsters Bobby Fischer and Mikhail Tal also appear on the scene, with Keres more than holding his own as he enters his fifth decade.
Jan. 29, 2017
The Day Donald Sutherland Showed Me Some Chess Moves; By Fiona Cummins, The Guardian
As a former show business journalist, I've met my fair share of celebrities—George Clooney and Michael Jackson to name(drop) a couple of them—and been invited to the glitziest parties in the A-list calendar. But in December 2006, work was the furthest thing from my mind. I'd just married my lovely husband Jason, and we were beside ourselves with excitement at the prospect of our three-week honeymoon in Australia.
Jan. 26, 2017
Speelman's Agony: The Truth or Reality; By Jonathan Speelman, ChessBase, plus ACC member Tom Harley
In his ChessBase column this month, Jonathan Speelman analyzes a game between Arlington Chess Club members Tom Harley and Josh Hiban. Tom had submitted the game and Speelman selected it for his column.
Jan. 25, 2017
Chess In Africa; By Maurice Ashley, ChessBase
After visiting Africa on a tour, GM Maurice Ashley was deeply moved by the extreme poverty, underlying beauty, and promise of hope. Instead of just writing about all this, he decided to take action, and together with Graham Jurgensen, they enlisted the help and patronage of the Paul Allen Foundation, as well as the Kasparov Chess Foundation in the USA and Africa, to take three grandmasters on a training tour for 18 weeks in Africa.
January 24, 2107
Conversation with Neil deGrasse Tyson; By Albert Silver, ChessBase
The famous astrophysicist Neil deGrasse Tyson, a tireless promoter of science, and considered by many as the spiritual successor of Carl Sagan, opened game eight of the World Championship Match. He accepted to sit down with a few journalists for a casual conversation where he talked about his connection with chess and what he finds interesting about chess and chessplayers, as well as how he sees it relative to education. A revealing piece.
January 16, 2107
Hans Berliner, Player and Programmer, Dies at 87; By Dylan Loeb McClain, New York Times
He learned chess at the age of 13, and played for the US Olympiad team and four times in the US Championship. He later graduated in computer science and became a professor at the Carnegie Mellon University. There he pioneered hardware programming and built the first machine that exceeded 2400 Elo points. Last Friday he passed away in Florida. Hans Berliner is also remembered for what many have called the greatest chess game ever played. An excellent eulogy of Berliner appeared in the Monday edition of the New York Times.
January 14, 2107
The Tale Behind The (48) Blindfold Record; By Albert Silver, ChessBase
On December 4, 2016, Timur Gareyev played against 48 opponents in a blindfold simul that lasted nearly 20 hours to set the new world record, a truly unbelievable exhibition of human strength and stamina. However, the road to the record was one of extensive preparation during which he met with leading experts in memory techniques, and even brought in the last surviving opponent of Najdorf's 1947 record, 92-year-old Luciano Andrade. Here is the full story behind the world record.
ARCHIVES: Older Articles Have ... Moved.